Abortion alternative presented
by Mark H. Hunter, Special to The Advocate
Published in The Advocate, 3/5/2016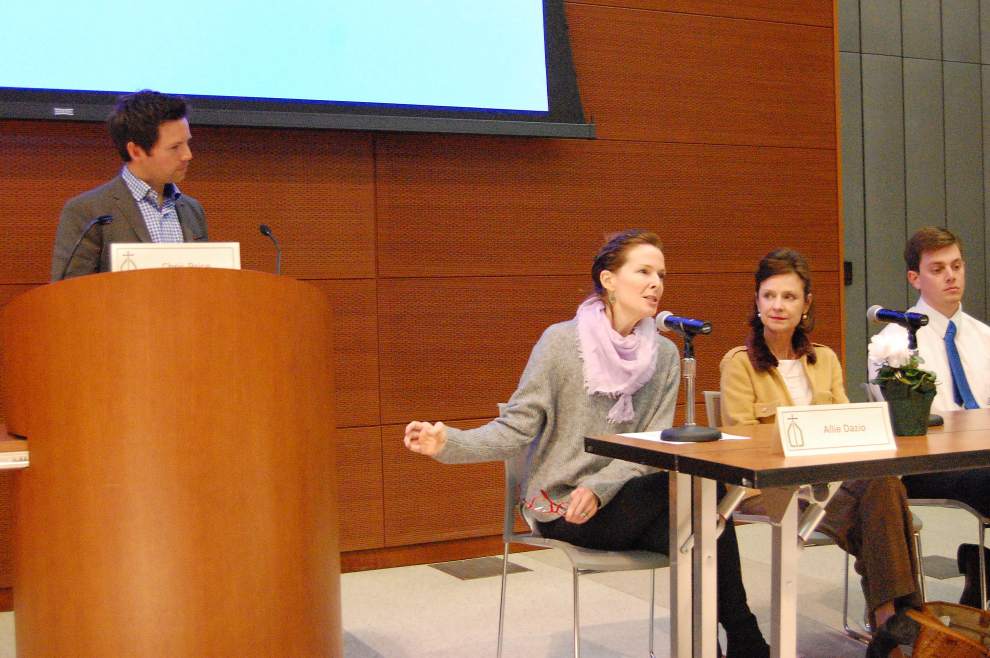 Nina, a waitress who works in a busy New York City restaurant, discovers she is pregnant and decides to have an abortion because, she tells a friend, "I can't even take care of myself, let alone a baby."
Her friend Jose, the restaurant's chef, counsels her to consider adoption but supports her by accompanying her to an abortion clinic. While lying on the table, Nina realizes she can't go through with it and eventually gives the baby up for adoption to Jose, who is not the biological father.
"Bella" is the baby's name and the name of an award-winning movie that won the People's Choice Award at the 2007 Toronto Film Festival. It was screened during "A Forum on Adoption" hosted by Catholic Charities of the Diocese of Baton Rouge last week at the East Baton Rouge Parish Main Library.
While Nina's abortion clinic decision is a fictional one, that is exactly what happened to David Scotton's birth mother 20 years ago in New Orleans. Scotton, an LSU student majoring in mass communication, was one of a half-dozen people on the forum's panel who have been adopted or have adopted children or help people adopt children.
"My birth mother was 18, and she thought her only option was abortion," Scotton said to more than 50 people attending the forum. "She went into a clinic and had passed some pro-life people outside who were praying. She was actually on the table and, at the last second, decided the baby was real and special, and she opted for adoption, and I love her for it!"
Scotton and Louisiana Right to Life are finalizing a documentary film of his experience, expected to be released this summer. They even filmed the first time he met his birth mother.
"There are a lot of misconceptions about adoption, but once people talk about it, we can clarify a lot of the misconceptions," Scotton said. "An adopted child is just as worthy as a biological child."
Deanna Wallace, legislative director at Louisiana Right to Life, was adopted out of foster care at age 5 with her siblings by what she calls "an amazing family."
"I don't feel any different from my friends who have pictures of themselves in the womb or their mother when she was pregnant with them or their baby pictures," Wallace said. "My siblings and I basically don't exist on paper or in pictures until we came to our parents. They actually wanted us instead of having us naturally."
Kent Gonsulin was 18 when his wife Charlotte, then 17, became pregnant.
"We immediately ruled out abortion," he said.
Their son Ben was placed in adoption through Catholic Social Services in 1984, becoming the second "open" adoption in Louisiana, meaning the child has the option to meet his birth parents.
When Ben was 6 years old, he wanted to meet his birth mother, and through efforts of Catholic Social Services, they did meet. When Ben was 8, he wanted to meet his birth father. They have a relationship Gonsulin described as "I'm like the uncle from out of town who comes to visit once in a while."
Charlene Smith Denoux, who years ago adopted a child through Catholic Social Services directly from the birth parents, said "it was the best thing that ever happened to me in my life."
They have an ongoing relationship with the birth parents and their children, and they all often get together for important occasions like graduations.
"It is a perfect fit because it is all based on love," she said.
Allison Sanford Dazzio, development director for Woman's New Life Center, said she appreciated that the film shows Jose as a nonjudgmental friend to Nina because "he listens to her." Jose also takes Nina out of the city to visit his parents' home, where she sees unconditional love. "A lot of women who find themselves in a crisis pregnancy don't have that safe place to turn," Dazzio said.
Women need a safe place to talk and be heard, Dazzio said, and that is why their center is next door to abortion facilities in Baton Rouge and Metairie and the still under-construction Planned Parenthood in New Orleans.
The Adoption Forum was held Feb. 26, the same day the Delta Clinic, Baton Rouge's only abortion clinic, announced it was closing. Last year, the state Legislature passed a law requiring abortion providers to have hospital admitting privileges to protect the health of the mothers, legislators said. But the law was suspended by federal Judge John deGravelles, who said it placed an undue burden on a woman's right to an abortion.
The U.S. 5th Circuit Court of Appeals disagreed with deGravelles and ruled the law can be enforced by the state while the court considers an appeal.
According to the state Department of Health and Hospitals, more than 10,000 abortions were performed in 2014 in Louisiana and just fewer than 10,000 estimated in 2015.
The Legislature is grappling with huge budget deficits and may slash state agencies like the Department of Children and Family Services, which is charged with foster care of hundreds of children and adoption services.
Paula C. Davis, a licensed clinical social worker who is the director of the Maternity and Adoption and Behavioral Health Department at Catholic Charities, said state budget cuts may have an impact on adoption issues, but it was too soon to tell. Whatever happens, she said, they will continue to partner with the Department of Children and Family Services and also with Louisiana Family Forum and Southern Baptist and other faith-based adoption programs.
"My heart breaks for the (Department of Children and Family Services) staff because they have impossible jobs, and they are responsible for the most vulnerable of our society," Davis said.
Carol Spruell, communications coordinator at Catholic Charities, said events like the one at the library are held to let the community know about their services.
"We want to provide answers for people who are either considering adoption or have a crisis pregnancy and have nowhere to turn," Spruell said.
Regarding possible legislative budget cuts, Spruell added, "We're always partnering with (the Department of Children and Family Services) with programs like our Safe Families for Children. We're always monitoring legislation to make sure it is in the best interest of the children and from families with broken households. One of our missions is to advocate for those who can't."